Here at Harmony Senior Services, we love to highlight our residents and associates. Take a look at who was featured throughout our communities during the month of December.
Resident of the Month - Joan Buckmaster
Joan Buckmaster was born and raised in Shaker Heights, Ohio. She attended college for one year in Ohio before going to Japan for two year to be with her father. After returning to the States, she finished her degree at Cornell in home economics. Joan eventually got her license to become a teacher in New Jersey. She was married for 64 years and has one daughter and two grandsons. Joan enjoys reading and attending music and social programs.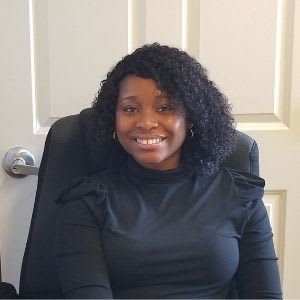 Associate of the Month - Sandra Asomugha, Healthcare Director
I started my career with seniors seven years ago in skilled nursing homes, and I have also worked in independent living, assisted living, and memory care as a nurse, as well as other leadership roles. I graduated with a bachelor's degree in biology and public health from George Mason University and a master's degree in public health with a concentration in global health promotion from Liberty University. I have a strong passion to enrich the lives of others and bring joy and kindness to seniors and their families. In my spare time, I love to travel to a new country every year- I have been to 15 different countries. I like to cook, hike, and read a new book every month. I am truly excited to be a part of the Harmony family!
Resident of the Month - Gertrude Price
Gertrude Price was born on December 15, 1920. Gertie was one of eight children born and raised in Sickerville, New Jersey. Shortly after graduating high school she married an Air Force airman and the two traveled the US together, living in Alabama, Mississippi, Florida, DC, and Maryland. While her husband was busy, Gertie took to selling makeup for Elizabeth Arden. She also volunteered at Walter Reed and Red Cross. In her free time, she enjoys golfing, playing bridge, knitting, and simply being by her husband's side. In 2017, Gertie moved to our community to be closer to her niece. Gertie says that the camaraderie is what makes living here so great. Her advice on how to live a long, full life is quite simple: Be yourself and be nice. She has certainly taken her own advice by being so positive, upbeat, and cheerful every time you see her. We should all take her motto to heart!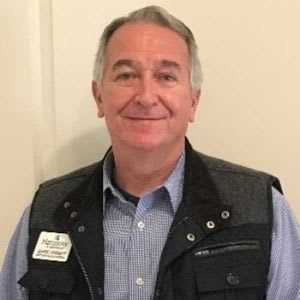 Associate of the Month - Jeff Garrett, Sales Manager
A talented and award-winning sales management professional with proven success in selling senior living options in various markets. Currently facilitating sales for Independent Living, Assisted Living, and Secured Assisted Living at the premier retirement community of Harmony at Greensboro in North Carolina. Developing relationships is at the foundation of what I do, along with learning how I can help seniors and their family members live better at Harmony. I also believe in supporting my local community through connections with professional organizations that help various groups. When not at work, I love spending time with my wife Dulcie and our family. Travel and outdoor activities are my favorites from walking my dogs, kayaking, and duck hunting.
New Executive Director - Brandy Akbari
Hello Harmony residents, families, and associates. My name is Brandy Akbari. I was your in-house Rehab Director with Ageility and now transitioned over to the Executive Director role at Harmony at Hope Mills. I am so excited to be your new ED and to have this opportunity! I have a wonderful husband named Matt and a beautiful daughter named Megan. We have two pets, a dog named Carrington and a cat named Sophia. I enjoy spending time with my family, traveling, reading, and gardening. I look forward to working with everyone and continuing to provide the best care to our residents, who I have grown to love so much!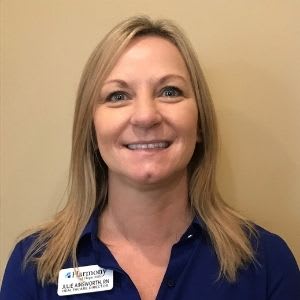 New Healthcare Director - Julie Ainsworth
My name is Julie Ainsworth and I am so excited to be the Health Care Director at Harmony at Hope Mills. I have 11 years of experience as a Registered Nurse. My husband is in the military, and we have three grown daughters who all work in the healthcare field. I lived in Vermont for many years and most recently lived in Washington state, where I developed my leadership skills while working at an Assisted Living community as a Clinical Manager. My goal is to establish relationships with residents and their families. I look forward to meeting everyone!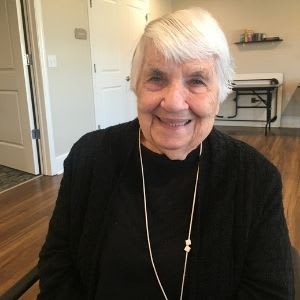 Resident of the Month - Santa Householder
Santa Householder was born in Hagerstown, MD in the 1920s. She grew up an only child, but her cousins across the street stood in well for siblings. They did everything together: Catholic school, church, and shopping. Santa married Foster Householder right after high school. They had three children together, two daughters and one son. All of Santa's favorite memories are of her family. A self-proclaimed homebody, Santa loved babysitting her grandchildren and cooking for her family. If you ask, she may share a few made-from-scratch secrets. These days, Santa enjoys family visits and listening to them sing to her over the telephone. Her most important piece of advice: "Cherish your memories."
New Harmony Square Director - Ashlee Lewis
My name is Ashlee Lewis and I just started as the Harmony Square Director. I am married with two boys, 11 and 3. They keep me busy and always on my toes. I have been a nurse for nine years with most of my experience being in geriatrics and working in skilled nursing facilities. I come from a family of nurses and have always had a passion for nursing and caring for others. I am very excited to bring new ideas to the Memory Care unit with hopes of sharing additional experiences and building a strong team to work with. I look forward to meeting everyone!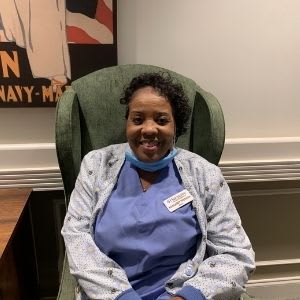 Associate of the Month - Margaret Freeman, Registered Medical Assistant
Congratulations to Margaret Freeman, our December Associate of the Month! Margaret is one of our wonderful RMAs. She always has a beautiful smile and truly loves her residents and her job. Thank you for all your hard work and the love you show our residents. Please join us in congratulating her.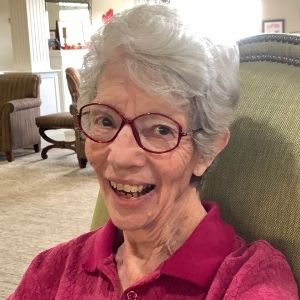 Harmony at Roanoke - Independent Living
Resident of the Month - Pat B.
Pat says she was a true "Army Brat" who moved around a lot in her lifetime. She has lived in California, Colorado, Washington, Texas, and Virginia. Pat has lived here for over a year and says she loves the people, comfort, and entertainment. She has two degrees, one in History from Colorado State University and one in Deaf Education from Gallaudet in Washington. She is the mother of two children, two step-children, and has four grandchildren. Her hobbies include reading, writing, and anthropology. We are proud to have Pat as part of our Harmony family!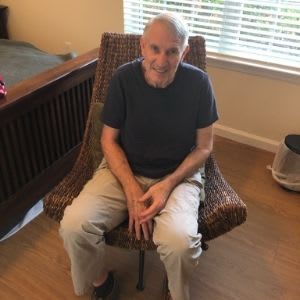 Resident of the Month - Gary Martin
Victory Station's resident of the month for December is Gary Martin. He lives in our Harmony Square community and is one of our favorites. Gary loves the Tennessee Volunteers and showing off his dance moves. His pastime favorites have included hunting and fishing. We love having Gary as a resident in our community!