Here at Harmony Senior Services, we love to highlight our residents and associates. Take a look at who was featured throughout our communities during the month of March.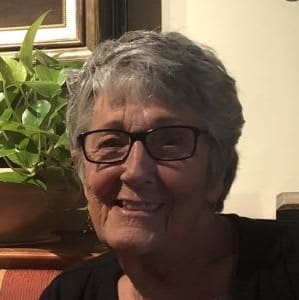 Resident of the Month - Marti Jannery
Marti, a former college administrator, and her husband, Arthur, retired to sunny Florida after raising three children, Jonathan, Beth, and Melanie. In 2019, after her husband passed, she moved to Virginia and took up residence at Harmony. She loves music, reading, cooking, baking, crafting, and dogs. Here at Harmony, Marti has enjoyed volunteering in the art studio where she shares her love of crafting with other residents.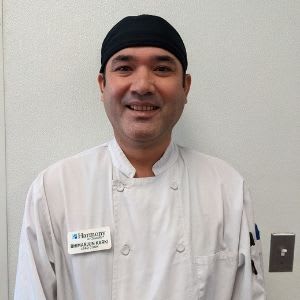 Associate of the Month - Bhimarjun Karki, Kitchen Supervisor
I'm from Nepal, and I moved to the USA for a better future and opportunity. I specialize in Nepalese and North Indian cuisine. I have been working at Harmony at Chantilly for two years and during this time I have become very knowledgeable in American cuisine. I am glad to be a part of such a great team. Cooking and interacting with the residents have been enjoyable experiences and I look forward to coming to work each day. 
New Sales Associate - Haley Stultz
Please welcome our new Sales Associate, Haley Stultz. She has an extensive background in clinical medicine with a BS in Public Health from UNCG. She is a Certified Health Education Specialist and spent the last year as an Activities Director in another senior living community. Her desire to assist families and future residents in choosing the best senior living community in Greensboro led her to Harmony. When she's not in the office she enjoys spending time with her husband and husky.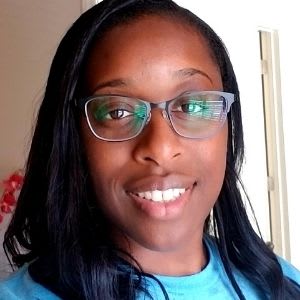 Associate of the Month - Taneshia Morris, Move-In Coordinator
I have been in the health field for over 14 years. As a graduate from WSSU with a degree in Recreation Therapy. I've worked as an Activity Director for nine years. As the Move-In Coordinator here at Harmony, I get the opportunity to get to know each and every resident while helping them find comfort in the uncertainty of moving into a senior living community. I danced for several years for three semi-professional teams here in the Fayetteville area and was also a cheerleading, dance, and fitness instructor.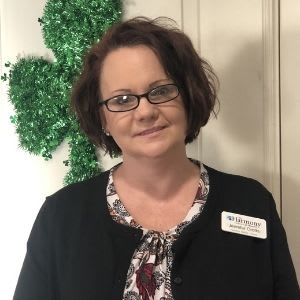 New Harmony Square Director - Jennifer Crotts
Jennifer comes to Harmony with over 20 years of experience in hospitals as well as long-term care. She is the proud mother of two children and grandmother of two grandchildren. In her spare time she enjoys building outdoor ponds, gardening, and spending time at the Bay. We are delighted to have her as part of our team at Harmony! 
New Harmony Square Director - Verita Braswell
Meet Verita Braswell, our new Harmony Square Director. She is excited to get started in her new position and has been with Harmony at Harbour View as an employee for years. With her new promotion, she is excited to share her love for working with seniors and boasts over two decades in nursing. 
Residents of the Month - Bob Bishop & Faye Fortner, President & VP of the Resident's Council
Bob and his wife were the first residents to sign on to move into Harmony on the Peninsula. From the very first day, he was making sure that he was greeting new residents and making them feel welcome. He is retired from the Navy. He became President of our Resident's Council about a year after moving in. He is always cheerful and comes to every meal singing. 
Faye has two sons, five grandchildren, and five great-grandchildren. She was the Director of Parkview Child Development Center for 32 years. She has been at Harmony for about a year. She greets residents, helps them get involved, and so much more as the Vice President of the Resident's Council.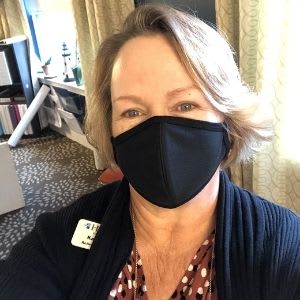 New Activity Assistant - Katie Rose
We are very happy to introduce our new Activity Assistant, Katie. She has shown us a lot of enthusiasm and she truly loves being part of the Harmony family. She has worked as a CNA and was also in the Navy. She has three children and four grandchildren. She looks forward to getting to know everyone!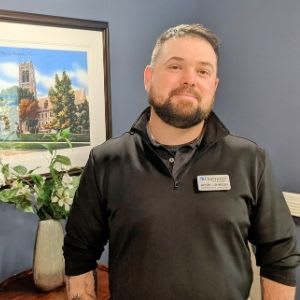 Harmony at Roanoke - Assisted Living 
New Maintenance Director - Jason Johnson
Jason comes to us with eight years of senior living maintenance experience. He loves to help people and to work with his hands. In his spare time he enjoys fishing, hunting, cooking, and boxing. He has been married to his beautiful wife for 21 years, has two boys, and three dogs. He's the perfect addition to our team and is ready to hit the ground running.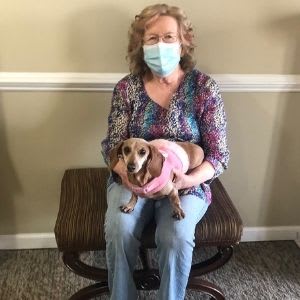 Harmony at Roanoke - Independent Living
Pet of the Month - Heidi
My name is Heidi and I am a new resident here. Mom and I moved in on New Year's Eve. I am a 14-year-old dachshund. I came to live with my mom when I was nine weeks old, and I've been going to Doggie Day Care every day since. I love it and the teachers love me. I love to dress up, especially in my Virginia Tech cheerleader outfit. I love people, and the people at Harmony are so good to me and my mom.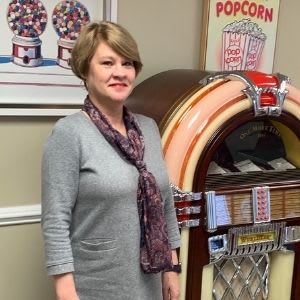 New Executive Director - Beth Wells 
Beth will be our new Executive Director. She has over 30 years of experience as an LPN and 14 years as a Licensed Administrator. She has been married for almost 30 years, and they have three adult children. Please introduce yourself and give her a warm welcome! She says, "I thoroughly enjoy taking care of others, and can hopefully make a difference in the lives of those I serve."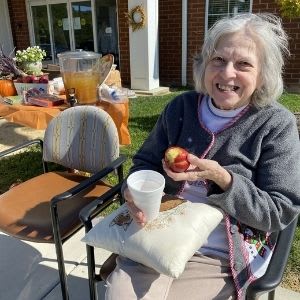 Harmony at Roanoke - Memory Care
Resident of the Month - Kay Backus
Ms. Kay was an English teacher for 55 years at Dupont Jr & Sr High School. She loved her students and cherishes all the memories she had as a teacher. She loved spending time with her family and shares her fondest memories of having dinners and get-togethers with them. Here at Harmony, Kay always knows how to give the staff a good laugh and constant smiles. She loves her morning yoga and is quite the bingo champ. You can usually find her snacking on a sweet treat socializing with her girlfriends in the Towne Center.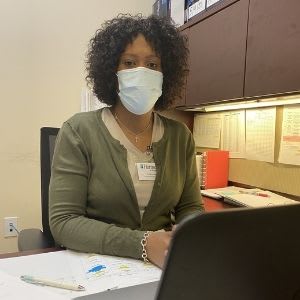 New Healthcare Director - Kimberly Law
Kimberly has been a nurse for 15 years and received her nursing degree from ECPI University. She also has a Bachelors in Psychology. In her free time she enjoys spending quality time with her family and friends. At the end of the day she loves to curl up and watch a good movie. She has an 18-year-old son, Zion, who she cheers on during his boxing tournaments. She is dedicated to ensuring the best quality care to our residents meeting each individual's needs.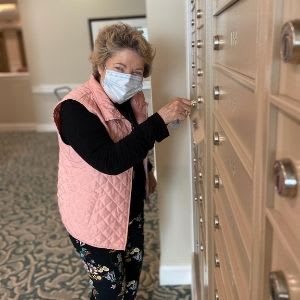 Resident of the Month - Judy Diederich 
Ms. Judy was not only Harmony at Savannah's first depositor, but also one of the first residents to move in. She was a teacher in Chatham County for 30 years, teaching high school English and Business. She is currently a Sunday school teacher at Calvary Baptist Church. To appease her competitive nature, you can find Judy playing cards and trivia. She is one of our most outgoing residents!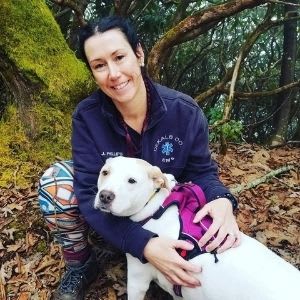 Associate of the Month - Jennifer Phillips, Director of Harmony Square
Jennifer joined Harmony at Savannah in February 2020 and has enjoyed building relationships with every resident and family member she's met. She's been in the medical field since she was 16. As a nurse, she has worked in the emergency room, intensive care, and psychiatric unit. She has four children and four dogs. In her spare time she enjoys working out, volunteering, and going to church.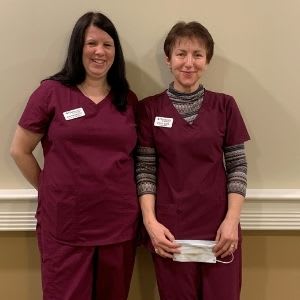 Associates of the Month - Kim Proffitt & Vicki Gahl, Nurses
Kim was born and raised in Charleston. She has been married to her husband for 23 years and has two daughters and three granddaughters. In her spare time she enjoys crafting, spending time with family, and the beach. Vicki was born and raised in Ukraine. She has a son, daughter, and other family members who still live in Ukraine. In her spare time she enjoys reading, sewing, yoga, and singing. We greatly appreciate these ladies and the care and commitment they have for all of us here at Harmony. 
Resident of the Month - Gerrie Peppler
Gerrie is a resident in our Harmony Square neighborhood. Her beautiful smile lights up our days. She is always willing to share a snack, play bingo, and work on the latest craft. She is such a joy to have here at Harmony at Victory Station.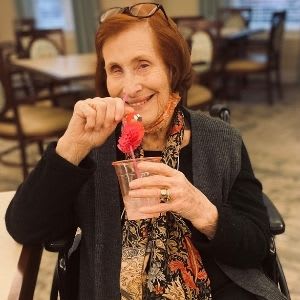 Resident of the Month - Marion Goodman
Marion is originally from South Carolina but has also lived in Virginia and Ohio. Her husband, Ken, and her were married for 59 years and had two children, Beth Hope and Harold. She was in the stationery and invitation business for 42 years. She has been at Harmony since August 2020. She loves her apartment and the staff. You can see Marion always laughing and socializing in the dining room during dinner.