Here at Harmony Senior Services, we love to highlight our residents and associates. Take a look at who was featured throughout our communities during the month of October.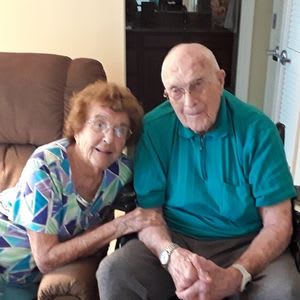 Residents of the Month - Frank & Fran Sweeten
Fran turned 100 in July, and Frank is turning 100 this month. Happy birthday to both of them! This sweet and amazing couple has been married for 73 years. They met in the same building at AT&T and started going to mass together. They experienced a lot through the past century: World War II, inventions like the first television, and mankind's accomplishment of the first man on the moon. The two believe that their faith has kept them going. Congratulations to them both!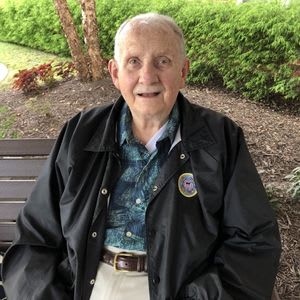 Resident of the Month - Walt Dudley
Walt Dudley was born in Baltimore. He always remembers loving the water. He would fish on the Chesapeake Bay with his father, and after graduating from high school, he joined the Coast Guard. He proudly served as a Warrant Officer for 20 years in Texas, Mississippi, Connecticut, Hawaii, and DC. He retired to Falls Run and joined our community in January 2021. His favorite pastimes include playing mahjong, building and flying radio control model airplanes, freshwater fishing, and singing in church choirs. He is the proud father of four children and lots of grandchildren. We are thankful to have this water-loving, happy gentleman in our midst!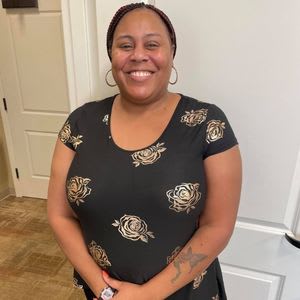 New Harmony Square Director - Shaneshia Dawkins
Originally from Laurinburg, NC, Shaneshia earned her Associates in Applied Sciences from Fayetteville Technical Community College in 2016, then went on to earn her Licensed Practical Nursing degree from Central Carolina in 2019. She originally began her medical career 15 years ago as a CNA and has always been drawn to working in geriatric populations. She is excited to bring new ideas, motivation, and leadership to our associates in our Harmony Square.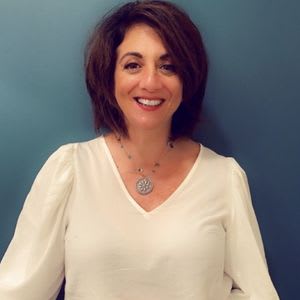 New Director of Sales & Marketing - Marlo Oswald
Marlo is a sales and leasing professional with a background in hospitality and property management in Pittsburgh. She enjoys making connections with people and is passionate about helping seniors find their next place to call home. Family is everything to her, including her husband, four children, and black lab Ruby. She spends her free time running, hiking, biking, and reading. Please stop by and help us welcome Marlo to Harmony at Harts Run!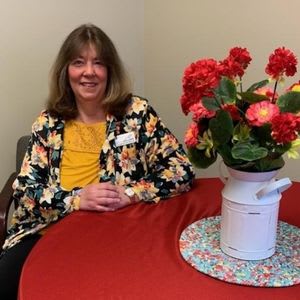 New Life Enrichment Director - Sarah Williams
Sarah has been with Harmony for 3+ years as an Activity Assistant and Harmony Square Director. She recently accepted the position of our new Life Enrichment Director. She is excited to be able to share her love of creativity with the residents and their families.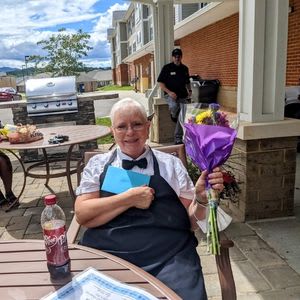 Harmony at Roanoke- Assisted Living
Associate of the Month - Edith Martin 
Congratulations to our Associate of the Month, Edith Martin! She is one of our hardest workers around and always goes out of her way to make our resident's days better.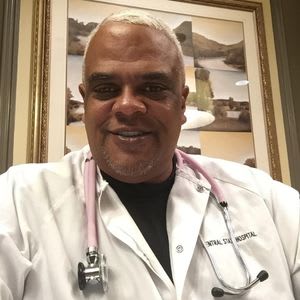 Associate of the Month - Carl Whitlock
Carl comes to Harmony at Spring Hill as a registered nurse with a multi-state license to practice. He joins the team with more than 30 years of experience in healthcare. He earned his Bachelors of Science in Nursing from Winston-Salem State in 1998. He is also a member of the National Association of Directors of Nursing. Welcome to the team!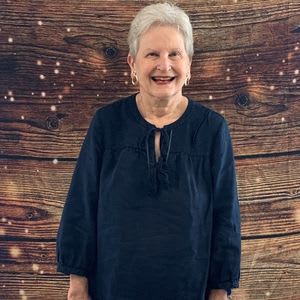 Resident of the Month - Mary Hovis
Mary was born in Lancaster, SC. She is the baby of her family with two older sisters. She graduated from Winthrop University and has worked as a 7th-grade history teacher, field executive with the Girl Scouts, as the director of Christian education in Florence and Charleston, and at the admissions office of Johnson and Wales University. When asked what she most enjoys about Harmony at West Ashley she said, "I especially like the people and staff at Harmony- the willingness of folks to reach out to each other and help." 
Resident of the Month - Bob Bishop
During Bob's 30 years in the Navy, he is most proud of being chosen as 1st Commanding Officer of the USS Banner Ager #1. He is also a Shriner and 32nd degree Mason. The Shriners' main goal is to provide hospital care to children at no cost. He now serves as Resident Council President and welcomes each and every new resident to the community. He is very proud to call Harmony his home. Thank you Bob for all you do!