Families with loved ones living with Alzheimer's disease or dementia may discover their needs are exceeding the quality of care they or others can personally provide. When someone begins to experience dementia or memory loss, they may need 24/7 care with trained caregivers. At Harmony, we understand that it is never an easy decision to place a loved one into a senior care home. Harmony Square is our secured Memory Care neighborhood equipped with additional safety enhancements for our residents. Our Harmony Square neighborhood is grounded in our "Family Serving Families" mission that makes Harmony truly feel like home. 
Harmony Square allows our residents the freedom and space for exercise and movement. Our community is designed to feel like a home and neighborhood, not like a facility. Harmony Square has common areas, large and small, inside and outside, that offer opportunities for socializing with friends or time for privacy like a regular neighborhood would be. Our community supports your loved one's independence, safety, and health all while allowing them to have a sense of personal control. 
Throughout our Harmony Square communities, we implement Life Stations in the neighborhood to inspire residents to remember positive past experiences in their lives. Life Stations are theme-based spaces to provide an opportunity for residents to reflect on past interests to help with restoring and maintaining cognitive performance. We believe that our Life Stations create a sense of confidence and well-being for each resident and create a Neighborhood-like feeling. Harmony's memory care residents are encouraged to participate in everyday activities which allow them to reminisce on life-skills they are familiar with and have core memories of. Listed below are some of Harmony's Life Stations offered to our senior residents:
Kitchen Area

Old cookbooks with photos

Coupons

Cooking utensils

Mixer

Office Desk Area

Typewriter

Paper

Envelopes

Newspapers

Gardening

Garden seeds

Flower pots

Gardening tools

Photobook of gardening
Harmony's caregivers closely monitor our memory care residents to make sure each resident is safe, comfortable, and participating in activities throughout the community. We put a strong effort into keeping our Harmony Square neighborhood a safe and secure environment for our residents, family, and associates. Safe and secured environments for seniors with memory loss include a myriad of health benefits such as a reduced risk of injury or falls, reduced risk of depression and cognitive decline, and an increased ability to live independently and participate in activities they enjoy. Overall, one of the most important things while working with individuals facing dementia or Alzheimer's Disease is to have a familiar routine that they can associate with and follow making them feel like they're at "home." 
See Harmony Square Life Stations in action at Harmony at Oakbrooke - When the team at Harmony at Oakbrooke found out that a new resident once worked as an optometrist, they jumped into action and built a new Life Station that reflects an optometrist's office.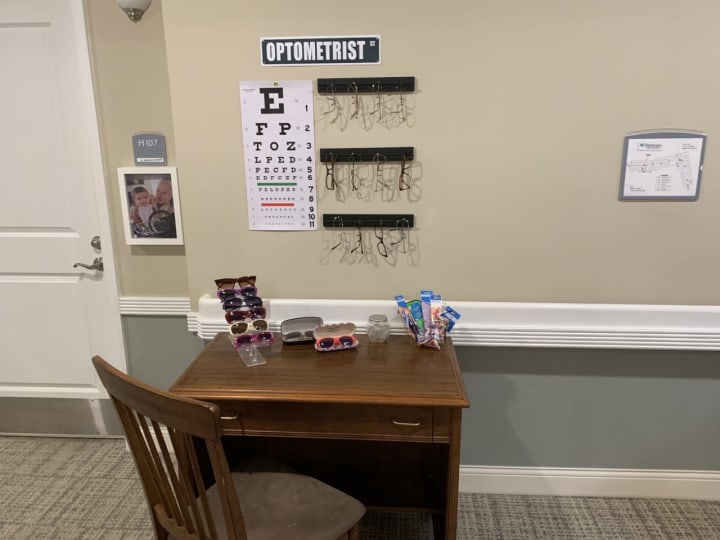 Sources:
https://www.nia.nih.gov/health/cognitive-health-and-older-adults