Here at Harmony Senior Services we love to highlight our residents and associates. Take a look at who was featured throughout our communities during the month of November.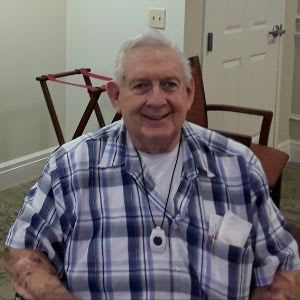 Resident of the Month - Gordon Nash
Gordon Nash was born and raised in Syracuse, NY. He pursued a bachelor's degree in electrical engineering at Rensselaer Polytechnic Institute. He also went to Naval Postgraduate School and served in the Navy for 25 years as a seagoing and ship building officer, reaching the rank of commander. In Syracuse, Gordon met his wife Nance who was a music school teacher, choir director, and organist. They have been married for 61 years and counting. They raised three children and have lots of grandchildren. In their retirement years, both of them continue to be active and volunteer in their church.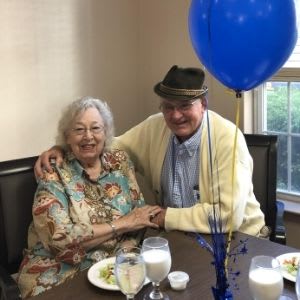 Resident of the Month - John Mrotek
John Mrotek was born and raised on a dairy farm in Loyal, WI. In his early years he was a telegrapher for the railroad, and a cryptologist for the Navy. John met his lovely bride-to-be, Bernice, after being transferred to DC. They married, had two children, and lived in northern VA. To try to consolidate all that John has accomplished over the course of his life is quite the feat, but in summary he has been: a landlord for apartment complexes, an accountant, a foster parent and youth mentor, a farmer, and owner of a Dollar General, which he still oversees. Today, John is still doing tax returns for people, working puzzles, and cracking jokes whenever given the opportunity. He says he's blessed and very thankful for the life that he has been given. He is a phenomenal man whose hard work and philanthropy have truly made a difference. The world could certainly use more people like John in it!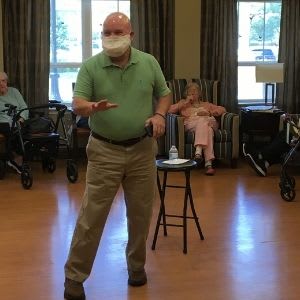 Entertainer of the Month - Kevin Salyer
It doesn't take much to make us dance with joy when Kevin Salyer comes to sing at Harmony at Hanover. We are delighted to have back to entertain us. It has been a very long time since our residents and associates got to hear live music. We look forward to many more performances from Kevin. Please join in on this musical treat.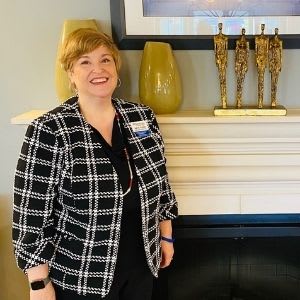 New Executive Director - Kaye Albin
My name is Kaye Albin, and I am so excited to be the Executive Director at Harmony at Harbour View. I want to thank you for making me feel so welcome in my new role, and I am thrilled to be working here with you. I come to you with 3 ½ years with Harmony Senior Services Chesapeake location. As a licensed Assisted Living Administrator, I bring 25 years of senior living, as an Executive Director as well as Regional Director of Sales. I am a Senior Advisor and Dementia Practitioner, volunteer for the Alzheimer's Association, and Former Activities Director. I have made Hampton Roads my home for the last 25 years with my husband Bruce. I love working in the older adult population and so does my little dog Josie. I have always loved animals, the outdoors, photography, and all kinds of music. I look forward to meeting more of you as time progresses, and please know I am here for you.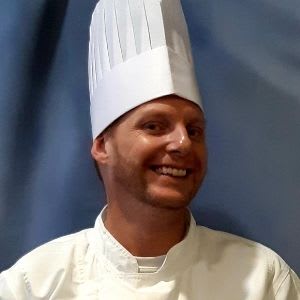 New Director of Dining Services - Casey Shaffer
I'm Casey Shaffer and I'm the new Director of Dining Services. My love for baking developed by watching my Mamaw (grandmother) make pies and cakes when I was a child. My favorite dessert to make is cheesecake. I have been working in the dining industry since I was 14 years old. My first job was in a little restaurant called Prime Thyme where I worked as a dishwasher until I was 16. There I learned how to make handmade pasta. During high school I took classes in culinary arts and restaurant management. Since then I have worked in a variety of positions in the industry from Hero Hut all the way to Table 9, even being a partner at Atomic Grill where I found my love for spice and barbecue. I can't wait to meet with each of you to discuss all things dining. Share your best recipe and I'll see if I can make it as good as you or your loved ones.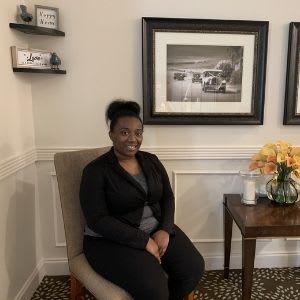 New Health Care Director - Amanda Nichols
Harmony on the Peninsula is very happy to announce the newest member of our management team, Amanda Nichols. Amanda has been with Harmony since 2017 beginning at Harbour View. She began as a charge nurse, then in 2018 she was promoted to Assistant Health Care Director. As she continued to grow as a nurse, she began to fulfill different roles. She served as the Interim Health Care Director in 2019 and most recently as the Harmony Square Director at Harbour View. She enjoys working at Harmony as a nurse and it shows. She looks forward to building relationships with each resident and their family members. We are very happy to have her here at Harmony on the Peninsula. Help us give her a warm and friendly welcome.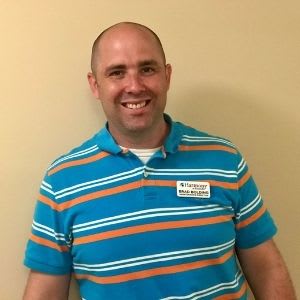 Harmony at Roanoke Assisted Living
New Maintenance Director - Brad Bolding
Brad Bolding is the Maintenance Director at both the Assisted Living and Memory Care communities in Roanoke. He has an undergraduate degree from ODU and a masters degree from UCA. He is also a Certified Alzheimer's Disease and Dementia Care Trainer and a Qualified Mental Health Professional. He has over 10 years of experience in maintenance management. Having played baseball in college, Brad's heart remains on the field and he is the president of the adult baseball league in Roanoke. He and his wife have been married for over 20 years and are blessed with two beautiful boys. Brad has a great passion for helping others and caring for the geriatric population. If you see Brad around, give him a big Harmony family welcome!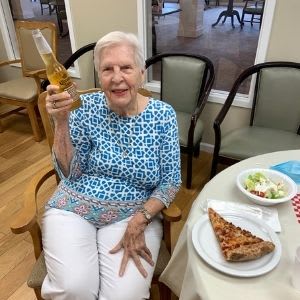 Harmony at Roanoke Independent Living
Resident of the Month - Jo S.
Jo was born in Richmond and raised in Norfolk. She spent almost 50 years living in Montgomery, AL and then moved here almost two years ago. She is a wonderful seamstress and worked for 30 years as an Accountant's Office Manager. Her hobbies include playing bridge, pinochle, and working on puzzles. She loves to travel and recently visited Maine. She is the proud mom of three children, and has three grandchildren, and thirteen great-grandchildren. When asked what she likes about living at Harmony, she said she loves her apartment, the views, and all the activities. Jo has a delightful spirit about her, and we love having her here as part of our family.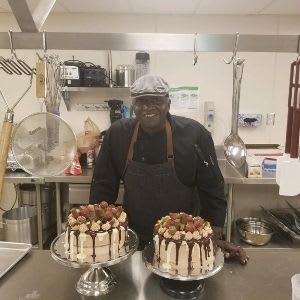 Associate of the Month - Quentin Stoutamire
Chef Quentin is a native of MacClenny, FL and joined the Army in 1997. He completed basic training in Fort Leonard Wood, MO and Advanced Individual Training in Fort Lee, VA. After training he was stationed in Fort Wainwright, AK, Fort Lee, VA, and Fort Steward, GA. He served three tours in Iraq, all in active war zones. Quentin also served seven years with the Army Reserve. After active duty, he graduated from the Arts Institute of Colorado with a degree in Culinary Arts. When he's not baking fancy cakes, you can find him spending time with his family.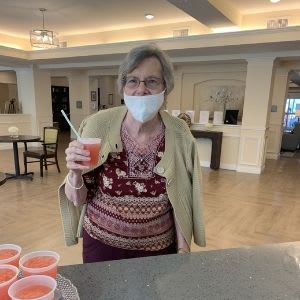 Resident of the Month - Joyce Waller
Harmony is so lucky to have Mrs. Joyce! She is active in the daily exercise class, crafts, and just about any activity you see on the calendar. She is always very accommodating and friendly to new residents, making sure she introduces herself and shows them the ropes. You can often find her helping new residents get acclimated to our wonderful community.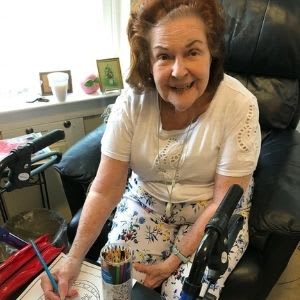 Resident of the Month - Shirley Taggart
Shirley described herself as a "West Virginia hillbilly" who was looking for somewhere comfortable to relax in her golden years when she decided to move closer to her family in South Carolina. Shirley's favorite part about living in our Assisted Living community is that everyone is "in the same boat" as her. "Sometimes making friends at this age can be hard, but there are always friendly people everywhere you turn and that makes me happy." Comfort and relaxation have been her main focus since living in the community. "The staff are always there to help out with anything and everything. I don't have to do a thing." Another reason Shirley loves living here is her room. She's a talented artist and walking into her room proves it. "My room is so nice and spacious. Perfect for me, and I get to hang up all my paintings."