Yvonne Anderson-Belding has spent her entire life helping others and continues to do so at Harmony.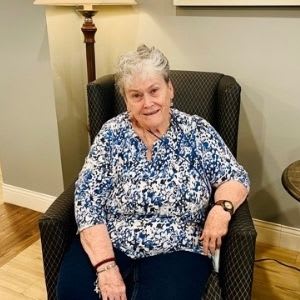 Yvonne grew up with teaching in her blood. Her mother and grandmother were both teachers. She gained three degrees throughout her life- elementary education, middle school education, and youth counseling. She spent 30 years working in schools in Virginia- 10 in elementary school, 10 in middle school, and 10 in school counseling. She loved working with children, and she especially loved being able to help them cope with difficult situations.
Yvonne and her husband, Jon, were married for almost 50 years. They met through her friend group in high school. He was drafted during the Vietnam War. She wrote him a letter every single day while he was overseas. And with her gracious heart, she also wrote letters to other soldiers who weren't as lucky to be receiving letters frequently. Together, she and Jon raised two children- a daughter who teaches children with autism, and a son who is a firefighter. They both live nearby and get to visit often.
Yvonne has been living at Harmony at Harbour View for a few months now and is already on the welcoming committee. She loves talking to new residents, eating meals with them, and giving them a shoulder to lean on during the transition process. She lives in our Independent Living section and has loved it from the first day she walked in. She is also about to celebrate her 77th birthday. Her best piece of advice? "Don't hesitate to talk to someone if you need help."
Wonderful residents like Yvonne make Harmony Senior Services the best place to live!