Bernice Barnes just celebrated her 101st birthday with us!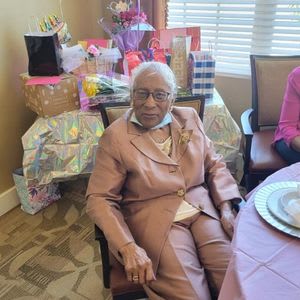 Bernice was born in 1920 and grew up in Saint Pauls, North Carolina. Her father owned a dry-cleaning business and her mother worked there as a seamstress. She is the second oldest child with four brothers and three sisters. Her and her siblings all worked at the dry cleaners at some point in their childhood.
Bernice was married to her husband, William, for 39 wonderful years. He was a soldier for 22 years and worked at the post office for another 22 years. Together, they have one beautiful daughter, three grandsons, and three great-grandchildren. She said he was an exceptionally good husband and father before passing away in 1990.
Throughout her life, she stayed very busy helping others. While raising her daughter, she also volunteered for the Foundation of Negro Women. She did bookkeeping for a tax office, worked in a beauty shop, and taught sewing classes. Later, she and William opened up their own catering business.  
Bernice moved into Harmony at Hope Mills over two years ago. She spent her life helping others and working hard, now she just wants to take it easy. She said, "I tell everybody this is the best place for you where you can be taken care of. I really enjoy it here." Want to know her secret to reaching 101 years old? "Work hard and be kind."
Wonderful residents like Bernice make Harmony Senior Services the best place to live!