Here at Harmony Senior Services, we love to highlight our residents and associates. Take a look at who was featured throughout our communities during the month of January.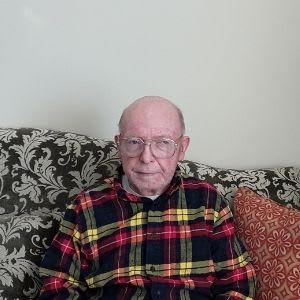 Resident of the Month - John Corley
John was born and raised in Brooklyn. He joined the Army as a company clerk for two years before going to college at the New York Institute of Technology to study architecture. John met Katherine while he was serving. They dated for five years and then were married. They moved to Washington, DC where John worked with a team on projects such as the National Air and Space Museum and the Metro. One hobby John and Katherine enjoyed together was boating on the Chesapeake Bay. They've been married for 55 years and have four children and nine grandchildren. 
Resident of the Month - Howard Albert
Howard was born in Washington DC on June 8, 1934. After graduation, he pursued a degree in Math & Science at George Washington University, and also joined the Marine Corps Reserves. Over the course of his career, he had a variety of jobs, including working for the University of Maryland and operating their subsonic wind tunnel, as well as working for ITE as a Design Manager for the Space Shuttle. He also worked for the Pentagon, where he obtained top security clearance. Howard's storybook romance began, long before his career, when he met Elaine, his future bride, in the 3rd grade. The two reconnected after high school through the Jewish Community Center in Arlington and were married shortly thereafter. They raised three children together and will celebrate 64 years of marriage this April. Howard and Elaine retired to Delaware where they ran a storage facility and an imprinting business. They moved to our community in 2016, and have since immersed themselves in everything craft and music-related. We are thankful for Howard's brilliant and creative mind!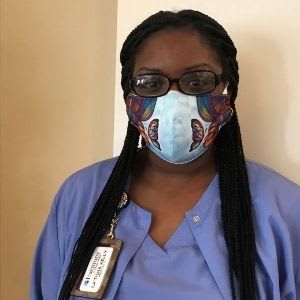 Associate of the Month - La'Tisha Kelly, Med Tech
La'Tisha has been a CNA1 since 2001, a CNA2 since 2003, and a med tech since 2005. She says, "The most rewarding part of my job is helping the residents." Thank you for everything you do at Harmony!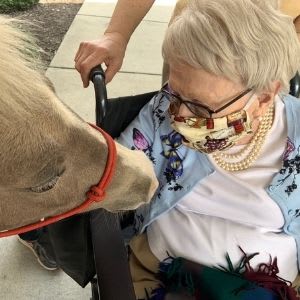 Harmony at Roanoke Independent Living
Resident of the Month - Carolyn
Carolyn has been blessed beyond measure, and she just celebrated her 106th birthday! We helped her celebrate by collecting 106 birthday cards for her to enjoy. She has lived with us since 2009. How does she stay looking so young? Dove soap and Oil of Olay. She really brightens our day every time she's able to come down for an activity. During a recent concert, she was bobbing her head and really enjoying the music. She loves ice cream and she loved being able to meet "Tater" the mini horse.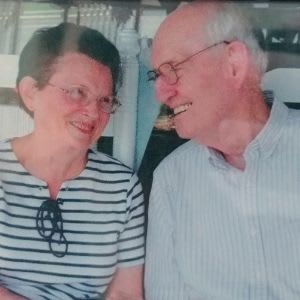 Resident of the Month - John Tidwell Jr. 
John was born and raised in Fairfax, AL, graduated from Auburn, and received his master's from Mississippi State. He has a very interesting and blessed career working in management for Fair Park in Dallas, TX. He was responsible for booking venues such as the Cotton Bowl Arena, government buildings, several museums, as well as other large venues and cities throughout the country. He very modestly mentioned working with: The Rolling Stones, Elvis Presley, Johnny Cash, John Denver, Liberace, Barry Manilow, George Bush Sr. and Queen Elizabeth. He also worked on large international events like the World Cup and the Olympics. However, his favorite life achievement was 70 years with his late wife, Madge.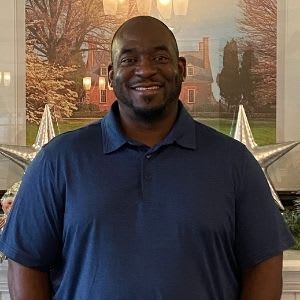 New Assistant Executive Director - Margbe Mason
Please join us in welcoming Margbe Mason to the Harmony family. He is both a licensed nurse and a licensed assisted living administrator. Originally from New York, Margbe now calls Chantilly home. A self-proclaimed movie buff, he enjoys spending time with his family and watching movies in his spare time. His motto? Service with a smile.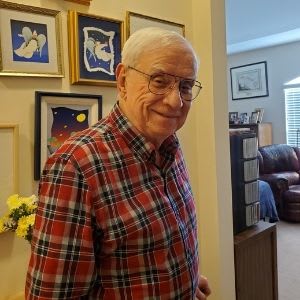 Resident of the Month - Sam Bowman
Sam is a resident in our Assisted Living community. He is always willing to lend a helping hand to his fellow residents. He is a retired electrical engineer and business owner. He also proudly served in the US Army as a Ranger and 1st Lieutenant. We are so glad to have you in our community!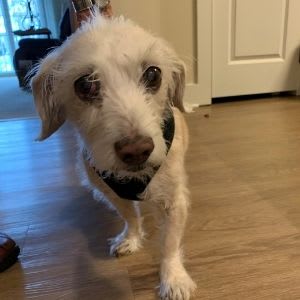 Pet of the Month - NeeCee
NeeCee's story: In my youth, I was a runner. Anytime I wasn't leashed, I ran. I didn't necessarily run away from anything, I just ran. That might explain why I was rescued by a driver during a rainstorm. She took me to an ASPCA facility where I was checked out by a vet and placed in a foster home. Employees at the facility posted my picture on their website and Stacy, the daughter of Jim and Elaine Miller, saw my picture and told her parents they should meet me. Of course, they couldn't resist me so I was headed home with them to Charleston, SC. My new home had a fenced-in yard so I was easily house-broken and after they put in a doggy door, I was free to come and go as I pleased. I was never allowed on the furniture, but I always had snug beds with my own quilts in a couple of places around the house. I also had lots of toys, and my goal is always to shred them and get the squeaker out. Elaine and I got in the habit of taking walks around the neighborhood every evening so I got to know all the neighbors and their owners. The years flew by and in 2018 we moved to Harmony. I had to learn elevators and trips to the grass on my leash, but I met many new people and dogs. Now that I'm 17 I have several health issues, so I fit right in with the other residents at Harmony!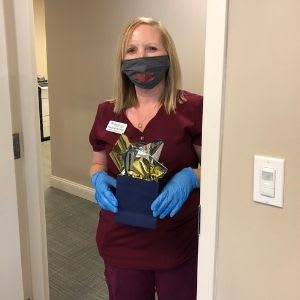 Associate of the Month - Maggie Mitter, Head of Housekeeping
Maggie is our Head of Housekeeping and she makes sure that our residents' rooms and living areas are squeaky clean. One resident stated, "Maggie is always very kind and keeps my living area smelling fresh and clean." We are happy that Maggie is part of our family!